4th of July Celebration at Sugden Regional Park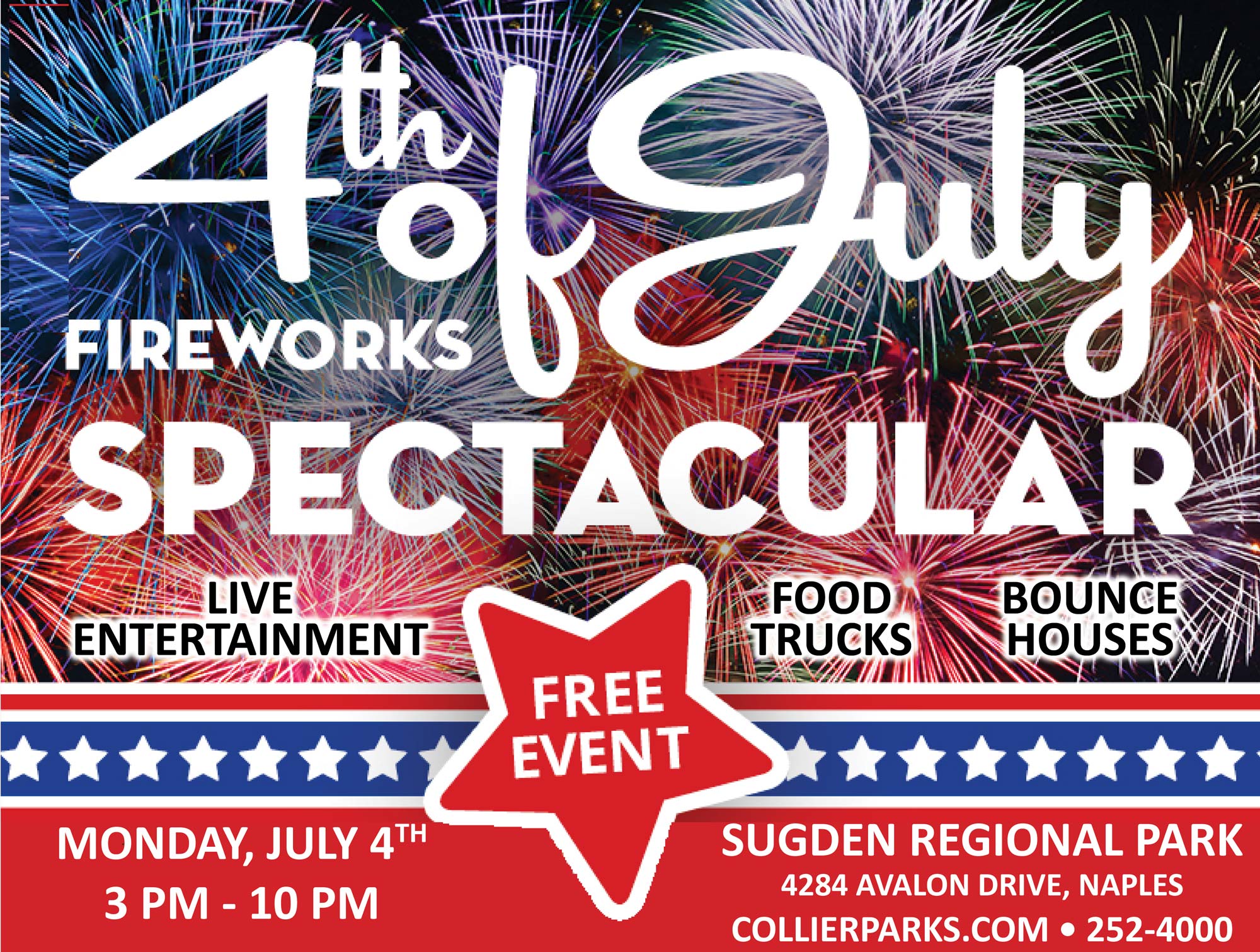 Monday, July 4, 2022 @ 3:00 pm

-

10:00 pm
Since 1985, people in the United States have celebrated Parks and Recreation Month in July to promote building strong, vibrant, and resilient communities through the power of parks and recreation, and to recognize the more than 160,000 full-time park and recreation professionals along with hundreds of thousands of part-time and seasonal workers and volunteers that maintain our country's local, state and community parks.  The services that park and recreation professionals provide are vital for our communities from protecting open space and natural resources to helping fight obesity and providing activities and resources for all people. Parks and Recreation Month encourages everyone to reflect on the exponential value park and recreation professionals bring to communities.
This July, Collier County Parks & Recreation is celebrating with the theme Get Up & Get Out – Explore, Engage & Connect!  July is the perfect time to see what Collier County Parks & Recreation has to offer and share your stories about what parks and recreation means to you.
From providing special events to exciting sports leagues and everything in between, Collier County Parks & Recreation has a wide variety of programs that are not only fun, but also bring the community together
Collier County Parks and Recreation kicks off  Parks and Recreation Month at Sugden Regional Park on Monday, July 4, 2022, for the 4th of July Fireworks Celebration! Festivities will begin at 3:00 p.m., which include bounce houses, live entertainment, and food trucks.  Fireworks will begin at 9:00 p.m.
Bring your lawn chairs, blankets, friends, and family to celebrate Parks and Recreation Month with a night of good old-fashioned fun.  Sugden Regional Park is located at 4284 Avalon Drive, Naples, FL.
On July 4th the park will be open for park visitors.  Limited parking will be available at Sugden Regional Park for the 4th of July Celebration.
Parking will be available at local establishments nearby the park. No pets, alcohol or outside fireworks will be permitted into the park on Monday, July 4, 2022.
For more information, call the Collier County Parks & Recreation Division at (239) 252-4000.
Register Online